Chris Tangey - Cinematographer - Drone Pilot
August 15th, 2023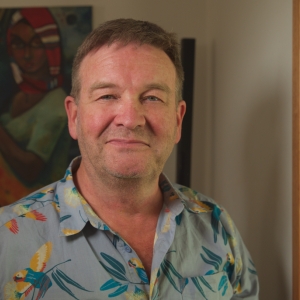 In this captivating episode, we have the privilege of hosting the renowned cinematographer and drone pilot, Chris Tangey, hailing from the awe-inspiring Northern Territories in Australia.
According to Los Angeles' Stage32.com Chris Tangey is "one of the most sought-after Drone Cinematographers in the world." But according to Chris: "you're only as good as your last gig!" He is Owner/Manager of Alice Springs Film and Television, a diverse media production and services company based in the very center of the Australian outback.
With a remarkable career spanning decades, Chris has collaborated with Academy Award-winning directors like Russell Boyd and the visionary Werner Herzog. His expertise extends beyond the silver screen, as he's provided his exceptional drone services for world-renowned nature TV shows.
Join us as Chris takes us on a thrilling journey through his illustrious career, revealing how he captures wildlife using his drone with artistic precision and sensitivity. Hear firsthand about his latest venture, "Fire Hawks," a breathtaking short natural history film that captures the essence of the wild. https://vimeo.com/782082976
Recent aerial projects include: The Universal Pictures feature film "Boy from the bush" and the Stan feature documentary "the Cape". Visual material for a new Warner Bros comedy series and featured material for "Great Southern Land", the new permanent exhibition at the National Museum of Australia, Canberra. Chris also supplied his aerial skills to the 2-part finale of the "The Bachelor" (U.S. 2020) for Warner Bros, "Nomad-in the footsteps of Bruce Chatwin" under the direction of film legend Werner Herzog, BBC's blue-chip nature series "7 Worlds-One Planet", a global TVC for Tourism Australia "Dundee" under Academy award-winning DOP Russell Boyd ASC, ACS, and all of the Australia footage for Nathaniel Rateliff's music video "Time Stands". Chris is currently shooting for the "From Above" series for National Geographic Channel and continues to license his footage to global clients. Triple-Finalist 53rd ACS National Awards for Cinematography Sydney 2023
Chris was the 2021 AZDroneFest winner for Best Landscape category, showcasing his outstanding talent in capturing breathtaking aerial views, in his film: Outback: https://vimeo.com/499967144
Don't miss this chance to learn from one of the industry's finest as Chris shares his insights, experiences, and the magic of capturing wildlife from above!
#USDroneCast #ChrisTangey #AerialCinematography #DronePilot #WildlifeCinematography #FireHawks #NatureFilm #AZDroneFestWinner