Saunders Staley - FPV Pilot - Cinematographer
September 5th, 2023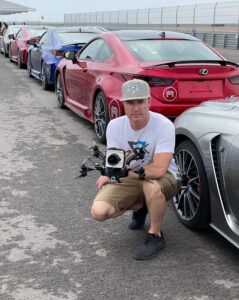 Join us on this episode of USDroneCast with our guest Saunders Staley, an award-winning cinematographer whose remarkable work has left an indelible mark on the industry.
Saunders shares his remarkable trajectory, from his early fascination with photography and new technologies to his current role as a sought-after aerial cinematographer for NFL Films, HBO, and more. With a masterful blend of cinematic drones and FPV, Saunders creates stunning visuals that elevate storytelling.
Explore the dedication and resilience required to steer an aerial cinematography business, as Saunders provides insights into navigating regulations and being approved as a vendor from major clients. 
With a passion for storytelling through the lens, Saunders began his artistic journey at the prestigious Brooks Institute of Photography in Santa Barbara, California. Immersed in the world of film and photography, Saunders honed his skills in the analog era, mastering the art of capturing moments without the luxury of instant digital feedback.
Graduating in 2002, Saunders embarked on a nomadic adventure, traversing iconic locations from San Francisco to Phoenix, Arizona. The diverse corporate experiences he gathered along the way were instrume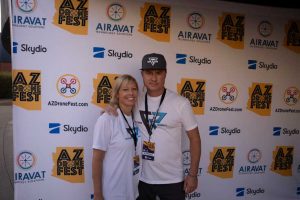 ntal in shaping his proficiency in sales and marketing—a foundation that would prove invaluable to his journey in the drone cinematography realm.
In 2016, Saunders founded Flying Robot, a venture that marked the turning point in his career. Fueled by a determination to excel, he meticulously curated his portfolio, focusing his lens on cinematography and photography. The path wasn't without its challenges, as Saunders diligently fine-tuned his offerings and streamlined his expertise to carve a distinct niche in the drone industry.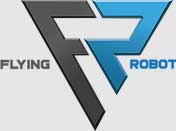 Navigating the ever-changing landscape of 2020, Saunders adeptly adapted to the circumstances, continuing to create compelling content for a variety of industries. His tenacity bore fruit in 2021 when the tide shifted, propelling Saunders and Flying Robot to new heights. Through steadfast dedication, Saunders has earned the opportunity to collaborate with renowned brands such as HBO, Google, NFL, PING, LEXUS, Spotify, National Geographic, and Sony Entertainment.
Join us in this captivating episode as Saunders shares his remarkable journey, from the analog realm to conquering the skies with cinematic finesse. Gain insights into his approach, experience his magnetic storytelling, and immerse yourself in the world of drone cinematography. 
#USDroneCast #AerialCinematography #AwardWinningCinematographer #VisualStorytelling