Danny McGee - FPV Pilot - Cinematographer
August 22nd, 2023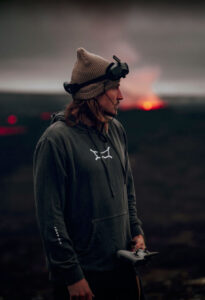 Join us in this thrilling episode of USDroneCast as we dive into the exhilarating world of FPV cinematography with our special guest, Danny McGee @McGee.  Danny's FPV adventures have taken him across the globe, capturing jaw-dropping footage that will leave you in awe.Get ready to hear firsthand about Danny's recent expedition to Iceland, where he captured stunning footage of an active volcano. Discover the heart-pounding moments as his drone narrowly escaped lava, resulting in some of the most incredible shots you won't want to miss: https://youtu.be/5ObEOr_h3Nk
But that's not all! Danny's creativity doesn't stop there. He takes us behind the scenes of his process for crafting captivating fly-throughs of resorts and AirBnB properties. Learn how he weaves a compelling narrative through his aerial shots, creating a unique story for each location.
Whether you're an aspiring content creator or simply curious about the business side of aerial cinematography, this episode offers a unique glimpse into the real-world experiences of an internet sensation. Tune in to glean valuable lessons from Danny's candid conversation about the dynamic landscape of online content creation.
This episode is a must-listen for all FPV enthusiasts, adventure seekers, and anyone fascinated by the magic of aerial cinematography. Tune in as we explore Danny's breathtaking experiences, his innovative techniques, and the art of storytelling through FPV.
#USDroneCast #FPVCinematography #AerialAdventure #McGee #DannyMcGee